Maintenance Free Features
Who wants to paint wood preserver on their shed every year before the winter? We certainly don't!
All of our buildings are supplied as maintenance-free garden buildings!
Our steel 40mm x 40mm box framing is welded and painted to protect from any rust. The front, back and side sections are solid welded units which are then bolted together on site to make a heavy duty rigid frame. In the longer sheds additional side bars and roof trusses are added.
Onto that, we mount a galvanised, primed and coated steel cladding (coated with PVC plastisol in a choice of colours), so the most you'll need to do each year is give it a wash with a hose pipe to remove any dust. The Plastisol coating is hard wearing and will only be damaged by something sharp or rough. Should this happen the steel is still protected by the galvanised coating underneath. You also do not have to leave space around the shed or worry when shrubs grow up around it, as it becomes an integral part of your garden. It couldn't be simpler!
The timber floor is supported by a steel frame with a series of cross bars so the timber is clear of the ground or base and is firm underfoot.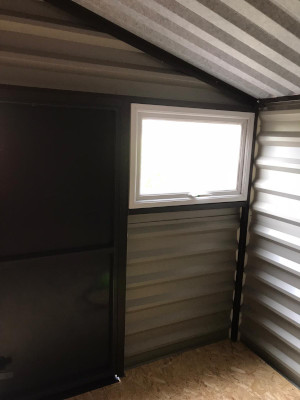 Download Our Brochure