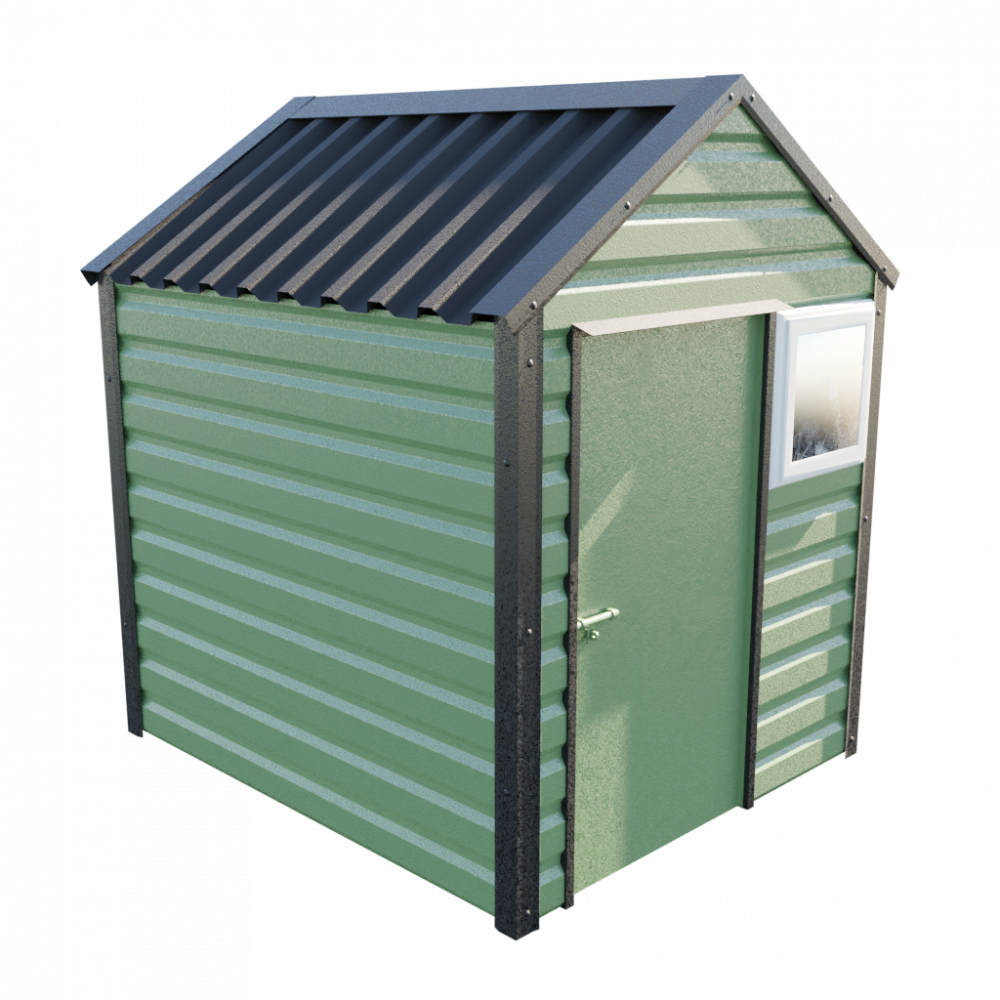 The Lifelong Apex steel shed is a stylish, robust and secure steel apex shed which is made to last! This secure steel shed is constructed with PVC coated galvanised steel cladding fitted to a rigid 40mm x 40mm box steel frame. Available in a wide range of sizes from 6ft x 7ft up to 12ft x 23ft 3in.
The Lifelong Apex steel shed is not to be compared to the metal sheds available in catalogues or many garden centres. These buildings are extremely strong and built to last. PVC coated galvanised steel cladding is fitted to a painted steel box frame, on-site, by our own trained installers.
Why Choose a Lifelong Apex Steel Shed?
PVC Coated Galvanised Steel Cladding
Strong steel cladding fitted to a rigid 40mm x 40mm box steel frame available in 5 attractive colours.
Lifelong colour options
Choose from Olive Green, Anthracite, Goosewing Grey, Vandyke Brown or Terracotta cladding. Each colour model is supplied with black steel corner bars, flashings and framing.
Steel Door
A strong steel single door fitted within the box framework (meaning the door cannot be lifted off the hinges).
Bolt Lock
The sliding bolt lock is fitted onto the main door for additional security, ready for you to fit a padlock of your choice.
PVC Window
A white, opening, double glazed window is included as standard and fitted to the front of the shed in a position of your choice.
Timber Floor
An 18mm OSB timber floor is included, which is laid on top of the steel box framework.
Maintenance-Free
No painting, treating or worrying when garden shrubs start to grow onto the building.
No Concrete Base
Because of the robust steel framework, all Lifelong sheds can sit directly onto the ground (providing it is reasonably level and clear of obstruction).
Anti-Condensation Treatment
The interior of the roof cladding is treated with an anti-condensation membrane, to prevent dripping in cold conditions.
Delivery and Installation Included
Delivery and installation is included as standard. Your new garden shed will be delivered and erected in one visit by our professional team, normally within 2 to 3 hours.
---
Dimensions for 6' x 7' Apex Shed - Olive Green
| Size Information | Metric | Imperial |
| --- | --- | --- |
| Base Width | 1.90m | 6' 2" |
| Base Depth | 2.10m | 6' 10" |
| Overall Width | 2.5m | 6' 8" |
| Overall Depth | 2.25m | 7' 4" |
| Eaves Height | 1.98m | 6' 5" |
| Ridge Height | 2.39m | 7' 10" |